Name the New Show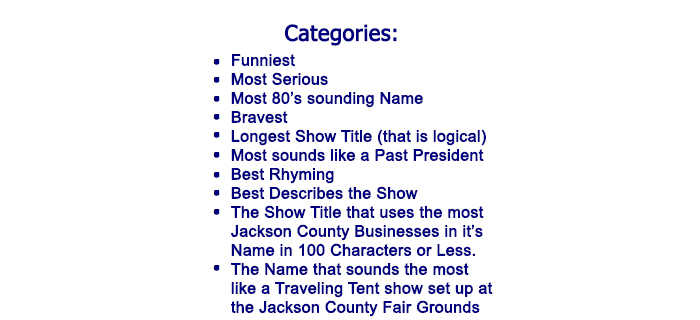 Send
an email to

John@LNR.net

with your Name/Address/Email/Phone and
most loved Petís Name. Or send a postcard to KKOJ P.O Box 29 Jackson, MN 56143

Each person is limited to 100 entries!

Disclaimer:
Remember you are in competition with all the employees of KKOJ and KRAQ and their parent companies who are encouraged to enter so that the corporation doesnít have to buy so many writing instruments next year. No Dolphins were hurt in the production of this show. All taxes are the responsibility of the winners or their next door neighbors, 3 doors to the right (and one floor up if it should be an apartment). The company reserves the right to use any pictures of your boat in upcoming promotions. The Company disclaims all liability for the inability of a participant to complete or continue a telephone call due to equipment malfunction, busy lines, inadvertent disconnections, acts beyond the Company's control, or otherwise. For all contests the Company disclaims all liability for any delays, misdelivery, loss, or failure in the delivery of any item sent by mail, courier, express, electronic transmission, or other delivery method. The Company is not responsible for mechanical, technical, electronic, communications, telephone, computer, hardware or software errors, malfunctions or failures of any kind, including: failed, incomplete, garbled or delayed transmission of online entries, traffic congestion on telephone lines, the Internet or at any website or lost or unavailable network connections which may limit an online entrant's ability to participate in the Contest, and any injury or damage to entrant's or any other person's computer related to or resulting from participating in or downloading any information necessary to participate in the Contest. Entry forms in a register-to-win contest are required to be handwritten. Photocopies or mechanical reproductions of entry forms are not permitted.